March 3, 2014 – Here's an update on new whiskies hitting the market or receiving additional distribution.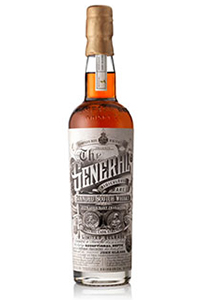 Compass Box has released The General in the US, Canada, and South Africa, following previous releases in the UK and Europe. The General is a blended Scotch whisky that came from two very old parcels of whisky blended years ago and left to marry in casks. While there's no age statement on The General, the youngest parcel of whisky is known to be at least 33 years old. Only 1,698 bottles were released worldwide.
Arran is releasing its oldest whisky yet…a 17-year-old single malt matured in ex-Sherry casks. 9,000 bottles will be available worldwide. The Arran 17 will be available at the end of March, and the distillery will release its first 18-year-old whisky in 2015. In addition, Arran plans to release the third and final edition in the Devil's Punch Bowl Trilogy series this June in time for the annual Arran Malt & Music Festival at the distillery on June 27 and 28.
Blackadder has released the latest expression in its Statement Raw Cask series of bottlings. The 30-year-old Glen Esk replaces the sold-out 40-year-old Ladyburn bottling. Blackadder is also expanding distribution of its Black Snake single malt range into Europe following its debut in April. Black Snake takes single malt casks from an undisclosed distillery and blends them into a single sherry cask for bottling using a solera-style system. As the cask is drained to two-thirds full, more whisky is added to top off the cask. The concept means some whisky from the original vatting will always remain in the cask. There are currently six different battings underway, with First Venom from Vat #2 now available along with Second Venom from Vat #1.
Links: Compass Box | Arran | Blackadder