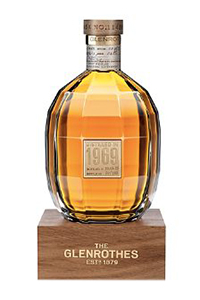 February 19, 2014 – The Glenrothes has released the second in its "Extraordinary Cask" series of single cask bottlings – a malt distilled in 1969 and matured in a refill ex-Sherry hogshead cask. In itself, the release of a single cask expression is rare for The Glenrothes. In an interview with WhiskyCast's Mark Gillespie for this coming weekend's episode, Berry Bros. & Rudd's Ronnie Cox said "we've always believed that two casks combined together will produce something greater than the sum of the parts."
Cask #11485 was filled in July of 1969, and has an unusual story. While most casks used for The Glenrothes official bottlings have remained under the distillery's control since they were filled, this cask was found in a parcel of whiskies that originally belonged to New York whisky collector and dealer Abe Rosenberg. Cox described him as a wonderful collector and connoisseur before his time of single malts.
"He had amassed quite a collection of whiskies, which in 2002 were between 27 and 45 years old, and they were then sold to a person who had purchased a company near Glasgow (believed to be Euan Shand of Duncan Taylor). In looking through the stocks, we identified a few which we thought in hopefully selecting the best of the best, would be some that help us tap the bloodline of The Glenrothes."
The cask produced just 133 bottles of whisky at a natural strength of 42.9% ABV. Berry Bros. & Rudd selected a bespoke Portugese crystal decanter, along with sterling silver trim, a leather case and Scottish Oak plinth. They will be available through Berry Bros. & Rudd in London at a price of £4,000 ($6,670 USD), along with select whisky retailers in Europe, the US, and Asia.
Update: The US importer for The Glenrothes, Anchor Distilling, announced on March 10 that the US recommended price will be $7,000 per bottle.
Links: The Glenrothes