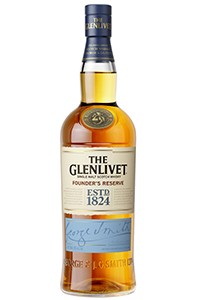 February 11, 2015 – Chivas Brothers is rolling out a new expression of The Glenlivet in approximately 60 markets worldwide this spring, with the no-age-statement Founder's Reserve slated to replace the flagship 12-year-old Glenlivet expression in a number of countries. A Chivas Brothers spokesman has confirmed a February 6 report by Thijs Klaverstijn of the Words of Whisky blog that the new expression will replace The Glenlivet 12 in the UK and Germany as early as next month, but declined to be more specific about the plans in other key markets. The announcements are being made in emails to members of The Glenlivet Guardians affinity group in each affected market.
Founder's Reserve was officially announced last October with plans to release it starting in March. However, the October 30 news release described it as being "priced alongside The Glenlivet's 12 Year Old expression," with no indication that it would replace that expression in some markets. In other  markets, the 12-year-old will remain the primary offering, while a number of key markets will offer both versions. As reported on this week's WhiskyCast, The Glenlivet Canadian brand manager Taryn Denman confirmed that both versions will be available in Canada. Pernod Ricard USA's Lauren Nodzak confirmed Wednesday afternoon that the US market will keep the 12 Year Old, with Founder's Reserve coming this autumn.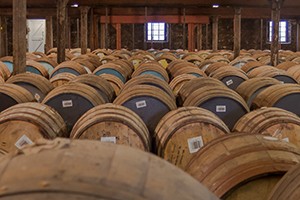 The Glenlivet Founder's Reserve is blended using a higher percentage of first-fill ex-Bourbon casks than the recipe for The Glenlivet 12. "It's a product that we think will really give everyone a classic Glenlivet that they'll love," the spokesman (who asked to not be recorded or identified by name) said. "Really, why we're doing it is to continue hopefully supplying all our fans with the classic Glenlivet style in the future." He denied rumors circulating on the Internet that the move is linked to shortages of aged whisky, but said that bringing out the no-age-statement version now will give Chivas Brothers flexibility to deal with supply problems that may develop in the future as global demand increases. The Glenlivet's most recent distillery expansion was completed in 2010, and planning permission was recently granted for another expansion that could potentially triple the distillery's output from its current level of 10.5 million liters of spirit annually.
Chivas Brothers and Pernod Ricard executives made the decisions on which countries will get Founder's Reserve and which will lose The Glenlivet 12 Year Old at the corporate level, based on what the Chivas Brothers spokesman described as "markets where consumers have a thirst for new products" and are "used to getting new and different products." The move will largely bypass the Asia-Pacific region, where a slightly different version of The Glenlivet 12 Year Old is sold.
We have asked Chivas Brothers to make a representative available for a broadcast interview in time for this week's episode of WhiskyCast. This story will be updated as more information is available.
Editor's note: This story was updated with additional information on the US market and a response from Pernod Ricard USA. 
Links: The Glenlivet | Chivas Brothers