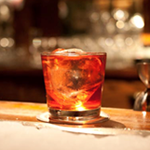 March 13, 2016 – The Dead Rabbit in New York City has built a reputation as one of the world's best cocktail bars, and Tullamore D.E.W. supplied this recipe created by Dead Rabbit master mixologist Jillian Vose using Tullamore D.E.W Phoenix.
1 part Tullamore D.E.W. Phoenix
1 part Lillet Rosé
¾ part Campari
½ part Combier Pamplemousse Rosé
1 dash of Peychaud's Bitters
Add all ingredients except for the bitters to a mixing glass filled with ice. Stir well until chilled and well-mixed, then strain into a cocktail glass, add a dash of bitters and express a Grapefruit twist over the glass before discarding.