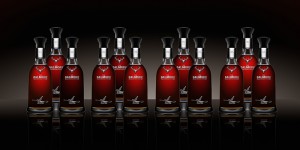 July 16, 2013 – Got £987,500 ($1.49 million USD) in spare change laying around, or perhaps you've just won the lottery? If so, The Dalmore and Harrod's in London have a deal for you.
Whyte & Mackay's flagship single malt Scotch is releasing The Dalmore Paterson Collection – 12 bottles of The Dalmore selected by Master Blender Richard Paterson and Harrods wine and spirits buyer Nick Fleming. The collection includes some of the rarest Dalmore malts available, with one bottle of whisky distilled in 1926. The collection also includes Richard Paterson's personal journal outlining each bottle, which was named after a person who influenced Richard's life and career.
In a news release, Paterson described his extensive work to create the collection that bears his name:
"Working alongside Harrods, we have created a collection of whiskies of the very highest quality that can truly lay claim to be the only one of its kind in the world. I personally have invested a huge amount of time ensuring that each of these twelve expressions represent the very best of the incredibly rare and valuable stocks that we nurture up at the distillery in Alness. I'm delighted that we have been able to give this collection the showcase that it deserves, with centre stage in the spirit room of the world's number one luxury retailer."
The Paterson Collection will be on display in the Harrods Fine Spirits Room at its flagship store in London.
Links: The Dalmore | Harrods