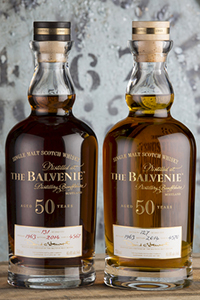 September 8, 2014 – William Grant & Sons plans to release the oldest single cask bottlings of The Balvenie single malt on record after bottling two casks of 50-year-old whisky. Both casks were filled in 1963 and bottled this year by veteran malt master David Stewart.
Cask #4567 produced 131 bottles at 45.4% ABV, while Cask #4570 produced 128 bottles at 45.9% ABV. Both bottlings are being released in a hand-crafted wood and brass case, and will carry a recommended retail price of £26,500 ($42,665 USD) at whisky specialist retailers worldwide. 15 bottles from Cask #4567 will be available in the US, according to The Balvenie.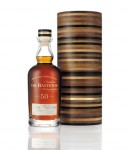 The announcement comes on the same day that Grant's announced plans to acquire the Drambuie whisky liqueur brand from the MacKinnon family for an undisclosed amount. The family-owned firm had been seen as the leading bidder for Drambuie once the MacKinnons put the brand up for sale earlier this year. The Mackinnons have owned Drambuie for nearly a century, but the brand's heritage is said to date back to 1746 when members of the unrelated Clan MacKinnon provided Prince Charles Edward Stuart, also known as "Bonnie Prince Charlie" with sanctuary on the Isle of Skye following the Battle of Culloden.
Editor's note: This story was updated to include information on US availability.
Links: The Balvenie | William Grant & Sons | Drambuie