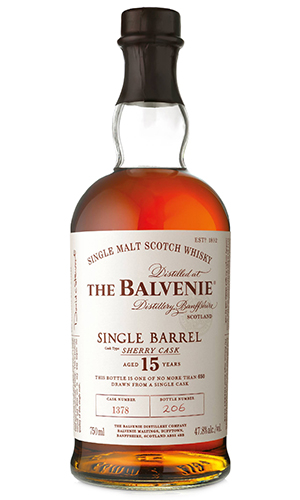 April 23, 2014 – The Balvenie will expand its range of single barrel malts with a new 15-year-old Sherry Cask expression, and plans are in the works for a 25-year-old single cask release in the near future. The Balvenie's global brand ambassador, Sam Simmons, said in an interview today that the 15-year-old expression will be available in the UK starting on May 2 coinciding with a special concert at Balvenie Castle, and in the US market during early May. The move follows last year's successful launch of a 12-year-old single barrel expression, and the new 15-year-old variant is expected to gradually replace The Balvenie's current 15-year-old Single Barrel that has been available for many years. The new 15-year-old will be available in limited quantities, due to the small number of ex-Sherry casks in the distillery's inventory.
"We'll end up with a 12, 15, and a 25 from three different types of casks," Simmons said. The 12-year-old uses first-fill ex-Bourbon casks, while the upcoming 25-year-old version will use refill casks — a nod to an older 25-year-old version. "I was a big fan of the 25-year-old when we had it…I think the last time we made it was in 2003," Simmons said. "A lot of people lament its loss…mature Balvenie from a single barrel, especially a refill, is sweet and quite luxurious."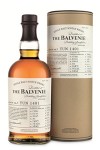 In addition, last November's Tun 1401 Batch #9 release for the US market may well mark a milestone for the series. The Tun 1401 bottling use vintage casks selected by Malt Master David Stewart for blending in the distillery's Tun 1401 vatting tun, which has a capacity of only 2,000 litres. Because of that, Tun 1401 releases have been rotated through the US/Asia, UK/Europe, and travel retail markets. However, a new vatting tun is under construction with an estimated capacity of 8,000 liters, and Simmons said that should allow for wider releases of Tun 1401 releases in the future.
The current tun is filled with Stewart's latest batch. "You can visit it at the distillery, probably if you're lucky, David might let you stick your finger in the top of the tun and have a wee taste, but currently there's no plan to bottle it, and probably the next Tun that we'll see bottled will be the new tun. It's really David Stewart's call." There's also no decision on what the new tun will be called, since Tun 1401 will continue to be used after the new one is commissioned.
Editor's note: This story was updated on May 5, 2014 with a new photo of the 15-year-old expression. 
Links: The Balvenie