The Balvenie is adding a new 12-year-old Single Barrel expression to its core range of Single Malts.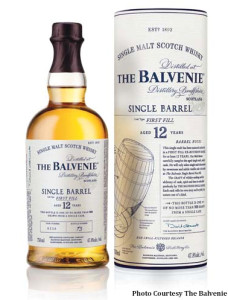 The new expression joins the longtime 15-year-old Single Barrel in The Balvenie's lineup, but will have a different flavor profile from the older whisky. Malt Master David Stewart selects the casks for bottling in both expressions, but  chooses casks with sweetness and subtle vanilla notes for the 12-year-old. Each cask is slightly different, and no more than 300 bottles will come from each individual cask.
The Balvenie Single Barrel, Aged 12 Years is bottled at 47.8% ABV with no chill-filtering, and will be available at a recommended price of $69.99 USD.