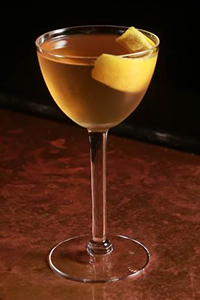 June 25, 2014 – Mixologist Jim Meehan created this cocktail as part of a series of signature drinks for the American Express Centurion Lounges at Dallas-Fort Worth and Las Vegas' McCarran airports. Thanks to PMK-BNC for supplying the recipe and photo.
2 ounces George Dickel #12 Tennessee Whiskey
3/4 ounce Cocchi Americano
1/2 ounce Canton Ginger Liqueur
2 Dashes of Miracle Mile Bergamot Bitters
Stir with ice and strain into a chilled coupe. Garnish with a lemon twist.