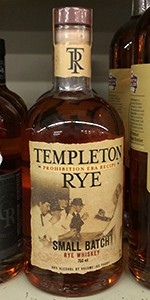 July 23, 2015 – Templeton Rye Spirits LLC will be on the hook for up to $2.5 million dollars in damages and legal fees following last week's settlement of three class-action lawsuits over labeling for Templeton Rye Whiskey. While the settlement has still not officially been filed with the U.S. District Court in Chicago, the Des Moines Register reports the cap on Templeton Rye's liability at $2.5 million, with the fund to be split proportionately among claimants if claims exceed that amount. Templeton Rye co-founder Keith Kerkhoff confirmed the existence of a cap, but declined to specify the amount in a WhiskyCast interview last week. A spokesperson for Templeton Rye confirmed the amount of the fund in an email, but projects the total cost of settling the case to come in "below that amount."
As previously reported, the settlement calls for consumers who purchased Templeton Rye since 2006 to be eligible for a maximum of $36 in refunds. Consumers with receipts will receive $6 per bottle for up to six bottles, while those without receipts will be eligible for $3 per bottle up to six bottles. In addition, onsumers who bought Templeton Rye at a bar will be able to claim a dollar per drink with a maximum of $5 in refunds. While claimants may be eligible under all three categories, the total amount of refunds per individual will be capped at $36.
The settlement must still be approved by U.S. District Court Judge Joan Gotschall, and no date has been set for a hearing. The Register reports claims will be handled through a web site to be established within 10 days after the settlement is approved. Templeton Rye Spirits LLC will be responsible for the entire amount of the settlement after agreeing in April to a stipulation in a separate lawsuit with its insurance company over liability coverage for the lawsuits.
In addition to the refunds, the settlement requires changes to the labels on Templeton Rye, some of which were made last autumn after the suits were filed in Illinois and Iowa. "Distilled in Indiana" was added to the label to reflect the whiskey's origin at MGP's Lawrenceburg, Indiana distillery. The terms "small batch" and "Prohibition Era Recipe" will be removed from the label, but the company will be allowed to use the term "based on the Prohibition Era Kerkhoff recipe." Templeton Rye is produced using a standard MGP Rye whiskey mashbill, but a proprietary compound of flavorings and water is added in Templeton, Iowa to recreate the Kerkhoff family's original recipe. The Templeton Rye web site and other marketing materials will also be edited to reflect the labeling changes.
Lawyers for the plaintiffs have not responded to WhiskyCast's requests for an interview. While asking Templeton Rye executives to confirm the settlement details reported in the Des Moines Register, we received an automatic response from co-founder and Templeton Rye president Scott Bush that he has stepped aside from day-to-day responsibilities at Templeton Rye, but continues to serve as a director of the company. Bush has not responded to emails at his personal address, and the Templeton Rye spokesperson says his departure was not connected to the litigation.
Update: As of August 7, 2015, the online web site for filing claims has been created.
Editor's note: This story was updated to include confirmation of Scott Bush's departure and additional information. 
Links: Templeton Rye