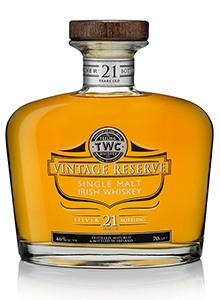 June 14, 2013 – The fledgling Teeling Whiskey Company is only a year old, but has released the first in a new Vintage Reserve series of Irish single malt whiskies. Silver Reserve is a 21-year-old single malt finished in Sauternes wine casks, and company founder Jack Teeling told WhiskyCast's Mark Gillespie today that it's the first Irish whiskey ever to use a Sauternes finish.  Silver Reserve will be followed in the coming months by 25 and 30-year-old single malts.
Teeling founded the company in April of 2012 after leaving Cooley Whiskey, which his family formed in 1987 and sold to Beam in December of 2011. The company has a long-term supply contract with Cooley for new make and aged spirit, but has also been sourcing Irish whiskey casks from other suppliers. The Silver Reserve comes from one of those suppliers, Teeling declined to identify the specific distillery during a phone interview today, but said it is an Irish distillery "known for its single malts".
Silver Reserve joins Teeling's Poitin white spirit (which he refers to as "Irish moonshine), and an Irish whiskey finished in Flor de Cana Rum casks in the company's portfolio. It will be available initially in Ireland at the Celtic Whiskey Shop in Dublin, at Dublin's airport, and selected retail outlets. Wider distribution is expected later this year in the UK, Europe, Canada, and New Zealand.
Jack Teeling is also nearing the end of negotiations for a parcel of land in Dublin to be the site of the Irish capital's first working distillery since 1976, when the Powers Distillery on Johns Lane closed. The site is in the Marrowbone Lane area near the site where Teeling's ancestors built the family's original distillery in 1782. He hopes to have the site acquired and planning permission received in time for construction to begin by the end of 2013, with a potential opening at the end of 2014.
For more on this story, listen to Mark Gillespie's interview with Jack Teeling on this weekend's episode of WhiskyCast.

Links: Teeling Whiskey Company