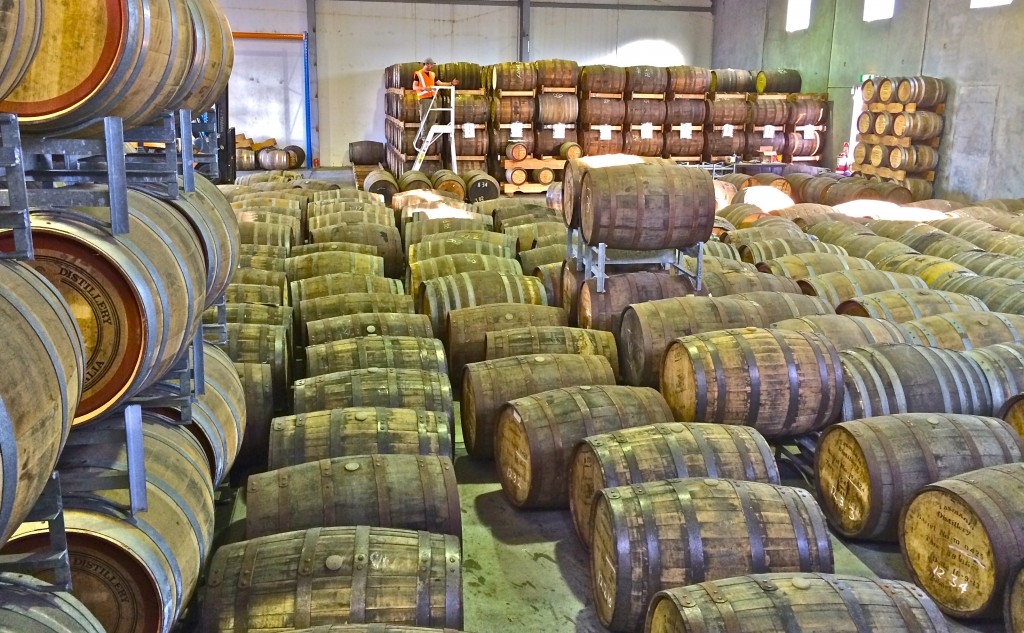 June 3, 2014 – Australia's award-winning Tasmania Distillery in Cambridge is in the middle of a month-long relocation project that will quadruple the distillery's size. The distillery has won major awards for its Sullivan's Cove Australian Single Malt, including this year's World Whiskies Award for "World's Best Single Malt" for its French Oak expression, but has been unable to expand production because of space constraints. The distillery's owners had been working for several years to get planning permission to convert an old railway tunnel into a maturation warehouse, according to distillery manager Patrick Maguire. However, they gave up on that plan last month when warehouse space next door became available, and purchased the space two weeks ago.
"Last week, we moved all the barrels from our old bond store that we were leasing from somewhere else on the other side of the city," Maguire said in a Skype interview. "We'll be starting the process of  moving the still and all the equipment and all the stock and setting up in the new place." Maguire hopes to have the move completed by the end of June, however, utility services to the new facility will have to be upgraded to handle the increased power demand from distilling operations. "If all goes well, maybe in the next three weeks we can have everything in there…if not, hopefully before the end of next month," he said.
Listen to Mark Gillespie's interview with Patrick Maguire:

The new facility will have a tasting room and display area, along with dedicated staff space and offices along with the distilling and maturation areas. However, the biggest change will be the ability to welcome visitors for the first time. The current distillery was never intended to handle visitors, but with the recent success of Sullivan's Cove in international competitions, whisky lovers have been finding their way to the distillery.
"We've never advertised where we are, simply because we can't deal with tourists properly," Maguire said. "Right from the start, we've had people turning up every day anyway, so we've had quite a nice little retail trade going on, but since we won the 'World's Best Whisky Award', we've had huge numbers of people come through and it's been a problem because we've basically had to put the whole staff on and we've got nowhere to put these people." In fact, two visitors were waiting for a tour while Maguire finished his interview with WhiskyCast's Mark Gillespie. "It's fantastic to have all the interest and have all these people here, but it really does get in the way of what we need to do."  Maguire plans to add staff specifically for guiding visitors and working in the tasting room when the new facility is completed, and said that it will add another facet to the business.
Editor's note: This story was updated on June 5 following an interview with Patrick Maguire. 
Links: Tasmania Distillery