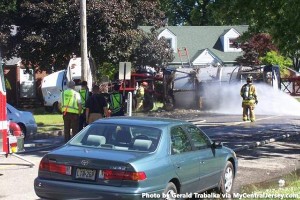 June 5, 2013 (Updated June 13)  – Police in Woodbridge, New Jersey are trying to figure out what caused a tanker truck hauling 6,000 gallons of Scotch whisky to flip and catch on fire at an intersection in a residential neighborhood today. Firefighters and a hazardous materials team responded to the accident within minutes, helped by the fact that the Fords Fire Company station was located within a block of  the accident scene. A photo of the scene on MyCentralJersey.com shows the aftermath of the crash, which set a small amount of whisky on fire when it spilled from a pressure relief valve on the top of the tank and ignited. The truck also hit a telephone pole and a parked car, which was also damaged in the fire.
The driver was working for B-Line Trucking of Newark, and suffered minor injuries in the crash. According to NJ.com, the company declined to comment on the accident.
Update: On June 18, Caspar MacRae of William Grant & Sons acknowledged in a phone interview with WhiskyCast's Mark Gillespie that the whisky in the truck was Clan MacGregor blended Scotch destined for the company's bottling facility in nearby Edison, New Jersey.