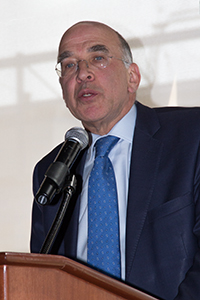 November 19, 2013 – As the Scotch Whisky Association fights the Scottish National Party's attempts to impose minimum pricing standards for alcohol, the trade body's outgoing chief executive believes foresight back in 2007 could have helped prevent the costly fight. In an interview to air on this weekend's episode of WhiskyCast, Gavin Hewitt said a stronger push was needed as the SNP was developing its platform while in the minority at Holyrood.
The SWA is urging Scotland's Court of Session to pass the ongoing lawsuit over minimum pricing on to the European Court of Justice, saying that it will appeal any adverse ruling to the Luxembourg-based court, and forwarding the case now will shave years off of a final ruling. The SNP-led Scottish Government opposes the move, and the next hearing is scheduled for November 28.
While restating the association's firm stance against minimum pricing, Hewitt told WhiskyCast's Mark Gillespie that more lobbying should have been done before the SNP took control of the Scottish Parliament. "Had we actually got a hold of them before they actually formulated policy, I think we would have saved ourselves both a lot of time and a lot of money," Hewitt said.
"They only talked in their manifest of 2007 about, you know, worried about the price of alcohol. We told them that, you know, effectively anything which interfered other than through tax on the pricing of alcohol was likely to run into problems. I think if maybe we could have just seen a little more clearly, by the time we actually told them that minimum pricing was totally unacceptable to us and would remain so…they didn't believe us."  
Hewitt maintains the Scottish plan to set a minimum price of 50p per unit of alcohol is "illegal, ineffective, and targets the entire population rather than the problem audience." While the Court of Session agreed with government officials in a preliminary ruling earlier this year, the SWA has charged that minimum pricing violates European Union laws and could lead to other countries imposing retaliatory tariffs on Scotch Whisky.
The Scottish Parliament agreed on minimum pricing in 2012 as a way to target the nation's binge drinking problem. Ireland's government is considering a similar proposal, while Britain's coalition government has shelved its own minimum pricing plan for now.
Hewitt will leave the SWA at the end of the year, and UK diplomat David Frost has been named as his successor. Frost has been the UK's senior official on trade policy in his role as director for Europe, Trade, and International Affairs at the Department of Business, Innovation, and Skills.
Links: Scotch Whisky Association | Scottish Government Alcohol Policy