August 4, 2016 – While pundits and politicians have been wringing their hands over the overall impact of the United Kingdom's June vote to exit the European Union, Scotch Whisky industry leaders have been looking at the issue in more granular terms. Specifically, the impact on exports – which make up more than 90% of all Scotch Whisky production. Scotch Whisky Association chief executive David Frost sees at least one potential area where the industry could benefit from Brexit – depending on whether British politicians are able to make it work.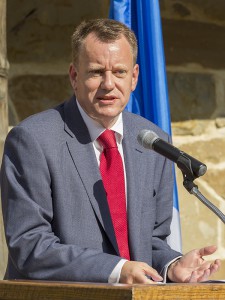 "The UK might find it easier to negotiate free trade agreements with big countries," Frost said in a telephone interview. "It's always been argued that one of the reasons the EU finds it so difficult is because they've got to get 28 member states to agree on every tariff…it might be easier for a single country to agree with India or Brazil or whatever if it really wants to," the former British diplomat said. Frost would like to see a free trade agreement with India be one of the highest priorities for the British government. India and its states impose some of the world's highest import duties on Scotch Whisky and other spirits, and years of negotiations between the Indian government and the European Union have failed to produce a free trade agreement.
Frost predicts most Scotch Whisky exports would continue with little interruption post-Brexit, since the US, Canada, the EU, and many other large export markets already have no tariffs on whisky as part of existing "most-favored nation" bilateral trade agreements. However, a number of nations that have existing free trade agreements with the European Union would be able to impose new tariffs on Scotch Whisky once the UK is no longer protected by those pacts. South Korea and South Africa routinely appear on the SWA's list of leading export markets, while exports to Colombia and Peru have been growing consistently in recent years.
A solution to the biggest challenge has yet to be made clear, though. Prime Minister Theresa May's government must still decide whether it wants a "Norway-like" relationship with the EU, in which the UK would still have to contribute funding to Brussels and accept open borders and trade while having no vote on EU policies. Should that option be chosen, the UK would continue to operate under existing EU laws that define Scotch Whisky and other spirits. Should the May government decide instead to negotiate a free trade agreement with the EU, the existing EU laws would have to be replaced with corresponding legislation in Parliament in a process that could take several years to accomplish.
However, that could potentially open the door for one Scotch Whisky initiative: the transparency proposal floated by Compass Box founder John Glaser to allow whisky makers to disclose more information about the ages of whiskies used in blends. Current EU law only allows the disclosure of the age of the youngest whisky in a bottling, and Glaser would like to see the SWA and the wider industry push for changes in that law.
"Certainly, it becomes easier if you don't have to get 28 member states to agree to it," Frost laughed. "On the other hand, the law will still prevail in the rest of the EU, so there's a question as to whether it would be really worth changing in one market when we have to agree elsewhere." Frost noted that many industry leaders believe that while the current law may be imperfect, it still has its merits.
Frost, who represented the UK as a diplomat at European Union headquarters in Brussels, also expressed confidence in controversial Foreign Minister Boris Johnson. "Our paths have crossed in the 90's when we were both in Brussels together, and he's a very erudite, clever guy who actually knows the EU pretty well…obviously, he's said one or two things that possibly wouldn't have said in that way had he known where he was going to be know, Frost said as he described Johnson as an "underestimated character."
The entire interview with David Frost can be heard on this weekend's episode of WhiskyCast.
Links: Scotch Whisky Association