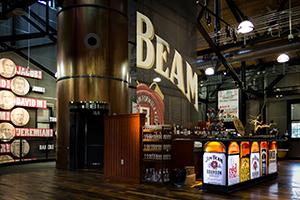 April 22, 2014 – Suntory's $16 billion acquisition of Beam has been approved by European Commission competition regulators. The merger had already been approved by US regulators, but needed European Commission approval because both companies have holdings in Scotland and extensive sales networks in Europe.
In a news release, Beam CEO Matt Shattock said the approval clears the way for the merger to close next Wednesday (April 30), with Beam shares to stop trading on the New York Stock Exchange at the close of the trading day. Beam shareholders will receive $83.50 per share in cash, and Beam will become part of privately-held Suntory Holdings when the deal closes.
"We have been working with Suntory to help ensure a smooth integration as we create the world's #3 premium spirits company, which will possess a dynamic portfolio across key categories, powerful global routes to market, and strong innovation capabilities. Our portfolios and operations are highly complementary, so we'll be focused on sustaining our momentum and generating sales synergies as we bring our companies together."
While no official announcement has been made, the Japan Times reports Shattock will continue as chief executive of what will be known as Beam Suntory when the deal closes, and Suntory plans to move the headquarters for its global alcoholic beverage business to Beam's Chicago-area offices. Suntory's food, soft drinks, and wellness business units will continue to be run from company headquarters in Tokyo, while its domestic whisky business will report to Beam Suntory executives in the US but continue to coordinate product development and sales in Tokyo. Beam spokesman Clarkson Hine declined to comment on the Japan Times report today, citing a company policy against commenting on rumors or speculation.
Suntory's goal in acquiring Beam was to diversify by boosting international sales as the Japanese market matures, and the plan is to take advantage of Beam's extensive global distribution network to increase exports of its Yamazaki and Hakushu single malts, along with the Hibiki range of blended whiskies and the rest of Suntory's alcoholic beverage portfolio. Last month, Suntory announced plans to invest around $9.7 million (USD) to increase capacity at its Hakushu distillery by around 30 percent. The move follows a similar expansion last year at its Yamazaki distillery near Osaka.
Editor's note: This story was updated with a response from Beam spokesman Clarkson Hine.