July 17, 2017 – Quintessential Brands has sold a 25 percent stake in its Irish Whiskey subsidiary to Stock Spirits, the London-based drinks company with an extensive presence in Eastern Europe. The €18.3 million ($21 million USD) investment in Quintessential Brands Ireland Whiskey Limited (QBIW) will allow Stock Spirits to take advantage of increasing global demand for Irish Whiskey, one of the fastest-growing segments of the whisky industry.
In a news release, the two companies said the investment will be used to finance completion of work on the Dublin Liberties Distillery, which is currently being built in Dublin and scheduled for completion in the spring of 2018. Funds from the investment will also be used for advertising and promotion of QBIW's The Dubliner and The Dublin Liberties Irish whiskies, which are currently blended by Quintessential using whiskey stocks sourced from other distilleries.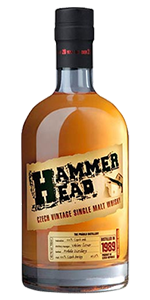 This is not the first venture into whisky for Stock Spirits, which distributes whiskies produced by Diageo, Beam Suntory, and Distill in select markets. In 2010, the company released its own Hammer Head Czech single malt distilled in the former Czechoslovakia at the state-owned Pradlo Distillery. That whisky was distilled in 1989 shortly before the end of Communism, and was discovered nearly 20 years later when Oaktree Capital Management acquired the distillery's owner, Stock Plzeň, and merged it into today's Stock Spirits. Hammer Head's 21, 23, and 25-year-old bottlings can still be found to this day, primarily in the travel retail market. 
Quintessential was founded in 2011 by former Campari CEO Enzo Vision and former investment banker Warren Scott. The company's Irish unit also produces several brands of Irish cream liqueurs, while its G&J Distillers unit in Great Britain produces a range of gins and its L&L unit in France makes liqueurs and brandies.
Links: Stock Spirits | Quintessential Brands