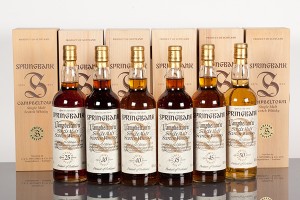 June 28, 2013 – A limited-edition collection of Springbank single malts led the bidding at McTear's during its June 26 auction of rare whiskies and wines in Glasgow. The Springbank Millennium Collection included six 70cl bottles ranging from 25 to 50 years in age, along with corresponding miniatures, and sold for £4,000 (approximately $6,100 USD). The winning bidder came away with a relative bargain, as another Millennium Collection set sold at the Bonhams April auction in New York City for $8,330 USD (about £5,475 GBP).
Runner-up honors went to a bottle of The Macallan from 1938 with a hammer price of £3,400 ($5,170 USD) , a Black Bowmore (1994 bottling) at £2,600 ($3,950 USD), and a bottle of The Macallan Royal Marriage released in 1981 (vatted from casks in 1948 and 1961), which sold for £2,200 ($3,350 USD). An Ardbeg 1976 Sherry Cask bottling sold for $2,000 ($3,042 USD).
Possibly the most unusual item up for bidding was a cask sample from a Macallan cask filled in 1951 and drawn from the cask in January of 2002. The sample was paired with a 50cl miniature bottle of The Macallan 1951, and went for a high bid of £1,000 ($1,520).
The next McTear's whisky auction will run from June 29 through July 7 in an online format through the McTear's Gallery 1842 site.
Links: McTear's Results