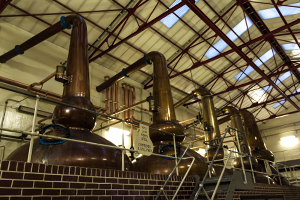 June 16, 2014 – In January, the Speyside area's representatives in Westminster and Edinburgh called for a summit meeting with chief executives of the region's two largest whisky producers. Angus Robertson represents Moray in Parliament, and Richard Lochhead is the Scottish Parliament's representative along with serving as Scotland's Rural Affairs Secretary. Together, they wanted a sit-down with Diageo's Ivan Menezes and Chivas Brothers' Laurent Lacassagne to discuss ways to develop Speyside's overall whisky industry with a goal of increasing tourism and economic development.
While they didn't get the three-way summit they wanted, The Spirits Business reports Menezes met with Robertson and Lochhead earlier this month, and Lacassagne has them penciled in for a meeting at the end of June. Lochhead and Robertson have already met with Edrington executives and discussed the ongoing plans for expansion at The Macallan announced last November. A Diageo spokesperson told The Spirits Business that no concrete plans were agreed on, but with £1 billion invested in Scotch whisky production, the company is "naturally interested in the development of Speyside and Scotland as a whole."  The largest Scotch whisky producer has expansion projects underway at many of its distilleries, including the Mortlach Distillery in Dufftown.
Lochhead has said he hopes the discussions will lead to development that puts Speyside on a par with other key drinks-producing such as France's Champagne and California's Napa Valley.
Links: Diageo | Chivas Brothers | Edrington