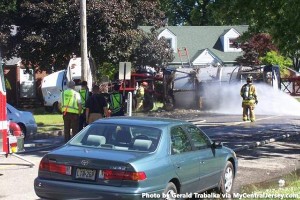 June 13, 2013 – The source and destination of the Scotch whisky being hauled in a tanker truck that flipped and caught fire in Woodbridge, New Jersey last week has been identified. The whisky in the tanker was Clan MacGregor blended Scotch being delivered to the William Grant & Sons bottling plant in nearby Edison, New Jersey, according to a company executive.
The truck overturned June 5 in a residential neighborhood, struck a parked car and a utility pole, and briefly caught fire when whisky spilled from a relief valve on top of the tank and ignited. Firefighters from the nearby Fords Fire Company in Woodbridge were on the scene within minutes, and extinguished the fire before the bulk of the whisky inside the tank could erupt. The truck's driver suffered minor injuries in the accident, and was treated at an area hospital.
Clan MacGregor is blended at the William Grant & Sons facilities in Scotland, and product destined for the U.S. market is shipped in bulk to the Grant facility in Edison for bottling. U.K. laws allow bulk exports of blended Scotch whisky for bottling outside of Scotland, but the practice is generally limited to so-called "value" brands. Most Scotch whisky producers bottle their premium brands of blended Scotch in Scotland, and U.K. laws mandate all single malt Scotch whiskies be bottled exclusively in Scotland.
Links: William Grant & Sons | Clan MacGregor