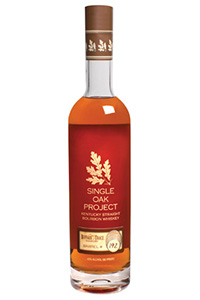 February 3, 2015 – After four years of quarterly releases, Buffalo Trace's Single Oak Project experiment is coming to a close. The final batch of 12 Bourbons in the series will be released later this month, though a final winner will not be announced until later this year. As with previous batches, the 12 whiskies will be packaged in 375ml bottles with one bottle from each barrel in a case and a recommended retail price of $46.35 each.
The project began back in 1999 when the late Ronnie Eddins selected 96 oak trees from a Missouri forest to be turned into barrels, with each half of a tree used to produce a single barrel for a total of 192 unique casks. Some of the casks received heavy charring, while others received a lighter char. The barrels were filled at the same time with spirit from either a rye-heavy or wheat-heavy mashbill, then stored at specific spots within two different warehouses at Buffalo Trace for eight years. Finally, all 192 barrels were dumped and bottled at the same time, with batches of 12 different single barrel Bourbons being released every three months starting in the spring of 2011.
While previous batches have tried to gauge the differences that changing one or two of the seven different variables have on the final product, Buffalo Trace marketing director Kris Comstock described the the final batch as full of variety in a news release.
"We've got some wheat and rye recipe, both the 105 and 125 entry proofs, all three grain sizes represented both types of warehouse floors, and oak from both the top and the bottom of the tree.  The only consistencies in this release are the stave seasoning at six months and the number four char."
Consumers have been adding their own tasting notes and ratings for each of the barrels at the Single Oak Project web site, with the specifics of each different whiskey revealed after a review is posted. Buffalo Trace plans to take the highest-rated barrel and replicate its unique characteristics for release under the Single Oak Bourbon name. More than 4,600 reviews have been posted so far, and Comstock described the race as very close with Barrel #82 (released in November, 2012) holding a narrow lead.
While the final batch is being released this month, the web site will accept reviews and votes until a winner is announced later this year. If the consumer voting does not produce a clear winner, Buffalo Trace plans to have a panel of Bourbon experts evaluate the final candidates and help determine a winner.
Editor's note: WhiskyCast's Mark Gillespie was one of the writers present for the 2011 launch of the Single Oak Project, and has been invited to return to Buffalo Trace in June to serve as a member of the final evaluation panel. While Buffalo Trace is covering travel expenses for that trip, no other compensation has been or will be paid in connection with coverage of this story. 
Links: Buffalo Trace | Single Oak Project