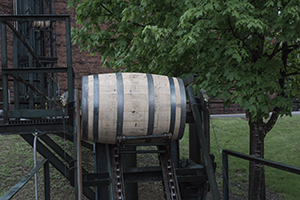 May 15, 2014 – Buffalo Trace's 13th batch of Single Oak Project experimental Bourbons will arrive at whisky specialist retailers later this month as the project enters its final year. The Single Oak Project started in 1999 when the late Ronnie Eddins selected 96 trees in a Missouri forest to be turned into barrels, with each tree producing a barrel from the top half and lower half of the trunk. One of the variables the project was designed to test was whether wood from the top or bottom of a tree had a difference on the flavor of the whiskey, and this batch specifically examines that question.
Each of the 12 Bourbons in the batch comes from barrels made from the top half of a tree, and all 12 share the same barrel entry proof and stave seasoning time. The variables that differ from bottle to bottle include the mashbill (rye or wheat), wood grain size, char level, and warehouse location. All 192 whiskies were matured for eight years and bottled at the same time and strength (40% ABV), and the latest batch will be available in 375 ml bottles for a recommended retail price of $46.35.
So far, 156 of the 192 single-cask Bourbons in the Single Oak Project series have been released since 2011, with the final 36 coming through the summer of 2015. The distillery has been collecting consumer feedback and votes online, along with tasting notes, and plans to take the final winner and use it as a template for a permanent Single Oak Project Bourbon release.
Links: Buffalo Trace | Single Oak Project