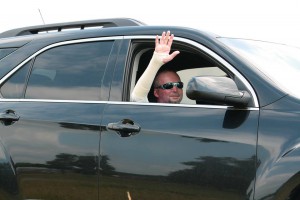 June 25, 2015 – Two months after the Silver Trail Distillery explosion that left him with severe burns and claimed the life of his cousin, Jay Rogers is back at home to continue his recovery. Rogers was released from Vanderbilt University Medical Center in Nashville, Tennessee, where he and Kyle Rogers were flown for treatment after the April 24 explosion that leveled the distillery. In a Silver Trail Facebook post, Jay was shown waving from the car as he and his fiancee Tiffany headed back to Hardin, Kentucky. The two became engaged while Rogers was hospitalized, prompting a colleague to post this on the distillery's Facebook page: "Jay's the only guy I know that goes to the hospital and comes out with a fiance. Congratulations you two!"
Rogers underwent more than a dozen surgeries to treat his injuries from the explosion, which splashed the two men with mash heated to around 204ºF. Kyle Rogers died at Vanderbilt 17 days later from a bacterial infection that doctors were unable to fight.
The Kentucky Fire Marshal's office has still not released its final report on the explosion, but the investigation is focusing on what Silver Trail founder Spencer Balentine has described as a failure of a key component in the still, which was built by Revenoor Stills in Yamhill, Oregon. Investigators have declined to comment on their probe until the final report is released. Balentine and Rogers have already filed a lawsuit against Revenoor and owner Terry Wilhelm.
Rogers' homecoming comes as Silver Trail resumed distilling for the first time since the explosion. While the distillery in Hardin has not been rebuilt, Balentine has worked out an agreement with Paul and Mary Beth Tomaszewski of the M.B. Roland Distillery in Pembroke to use their distillery until Silver Trail can be rebuilt. Balentine has already promoted Jay Rogers to Master Distiller for Silver Trail – as soon as he's able to return to work.
Editor's note: This story was updated to correct the names of Paul and Mary Beth Tomaszewski of M.B. Roland Distillery. We regret the error.