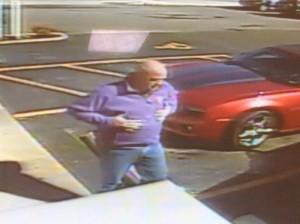 October 25, 2013 – The "Pappy Posse" may be narrowing the search for a suspect in the theft of $26,000 worth of Pappy Van Winkle's Family Reserve 20-year-old Bourbon and 13-year-old Rye whiskies from Buffalo Trace Distillery. Franklin County Sheriff Pat Melton told WhiskyCast's Mark Gillespie today that his investigators are following up on "numerous tips" received after surveillance video from a liquor store in Elizabethtown, Kentucky was posted on YouTube.
In the video from October 20, 2013 shortly before 2:00pm, a man wearing what appears to be a Bardstown High School sweatshirt walks into and out of the store. An employee told deputies that the man inquired whether the store would be interested in "a large quantity of Pappy Van Winkle." Approximately 195 bottles of the 20-year-old Bourbon and 27 bottles of the 13-year-old Rye were taken from a secured warehouse at Buffalo Trace over a period of one to two months. The theft was discovered on October 15 when Buffalo Trace workers were preparing to ship the annual release of Pappy Van Winkle whiskies to regional distributors.
Listen to Mark Gillespie's October 25 interview with Franklin County Sheriff Pat Melton:
Sheriff Melton is asking anyone with information on the man wanted for questioning or with other tips on the theft to report them via the department's "Text-a-Tip" line at 502-320-3306 or send a message to investigators through the department's Facebook page. So far, no reward has been offered for information leading to an arrest and conviction in the case.
Citing the ongoing investigation, both the Van Winkle family and Buffalo Trace executives have declined requests for comment on the theft. Buffalo Trace produces the Van Winkle whiskies under contract for the Van Winkle family. The remaining Pappy Van Winkle 2013 inventory is being shipped to distributors for release.
Editor's note: This story was updated on November 3, 2013 with additional information. Please click here to read the story.
Links: Franklin County Sheriff | Old Rip Van Winkle Distillery | Buffalo Trace