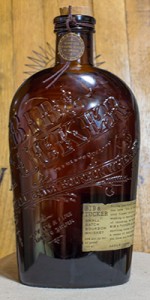 September 29, 2014 – 35 Maple Street, a California-based spirits company headed by August Sebastiani of the legendary California winemaking family, has finally entered the Bourbon business with the launch of Bib & Tucker Small Batch this week. 35 Maple Street is most well known for its Masterson's range of Canadian whiskies, which have won a number of honors in the Canadian Whisky Awards and other competitions. However, the company has been working on launching Bib & Tucker for more than 18 months. As first reported by WhiskyCast in May of 2013, much of the delay has been caused by problems in sourcing the custom glass bottles for the whisky. The amber bottles include custom embossing, and 35 Maple Street chief operating officer Richard Zeller told WhiskyCast's Mark Gillespie that there had been a number of issues in producing the bottles.
At that time, Zeller had described Bib & Tucker as an eight-year-old Bourbon from an undisclosed Tennessee distillery. However, the version released this week in New York City, Los Angeles, San Francisco, and other major US cities along with Sweden and Switzerland is labeled as a six-year-old Bourbon bottled at 46% ABV with no reference to any specific state. The whiskey is being bottled for 35 Maple Street at the Kentucky Artisan Distillery in Crestwood, Kentucky, but that distillery has only been producing whiskey for about a year and is not the source of the spirit. 35 Maple Street does not own a distillery of its own and sources its spirits from a number of distilleries.  The company is a unit of August Sebastiani's The Other Guys wine company, and is not related to the Sebastiani Vineyards and Winery in Sonoma County, which family members sold in 2008.
Bib & Tucker gets its name from what was often referred to in pioneer days as "bib and tucker" clothing, usually reserved for special occasions. The whiskey will carry a recommended retail price of $59 USD per 750ml bottle.
Tasting notes for Bib & Tucker will be available soon at the WhiskyCast web site.
Links: 35 Maple Street