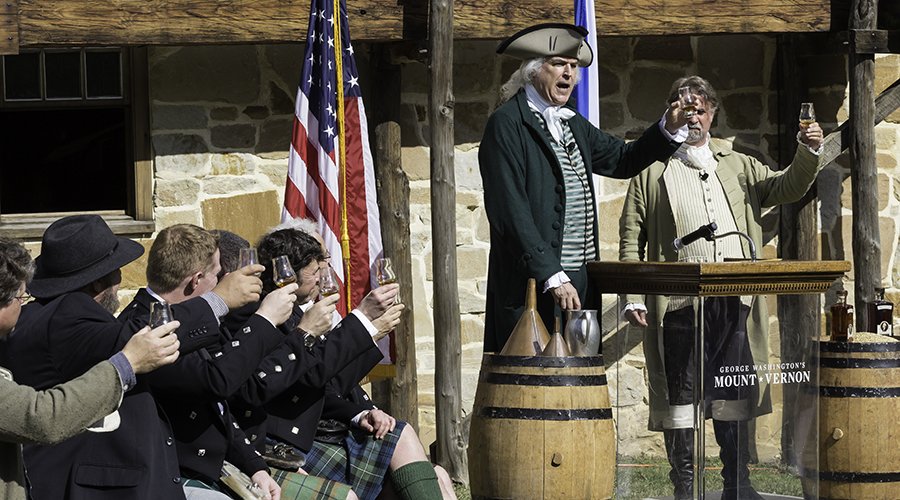 October 13, 2015 – George Washington never made single malt whiskey in the distillery on his Mount Vernon estate near Washington, but was one of the country's largest rye distillers in the years after he served as President. Now, a single malt bearing Washington's name and image will help raise money to preserve Mount Vernon for future generations.
Distillers Andy Cant of Cardhu, Bill Lumsden of Glenmorangie, and John Campbell of Laphroaig distilled the whisky at Mount Vernon in March, 2012 using barley imported from Scotland. They returned to Mount Vernon for the debut of the matured whisky at a news conference today, ahead of tonight's annual "Spirit of Mount Vernon" benefit in which the first two bottles will be auctioned to raise money for the estate's education programs.
"This was such an honor…it was play time for me to have John, Bill, and Andy all working side by side," Mount Vernon Master Distiller Dave Pickerell said. He and the estate's distillery team had milled the barley and fermented the mash before the three distillers arrived from Scotland, leaving them to handle distilling in the stills patterned after those originally used at Mount Vernon between 1797 and 1808. The wood-fired stills are significantly smaller than any the distillers had ever used before, with a capacity of just a couple of dozen gallons of mash.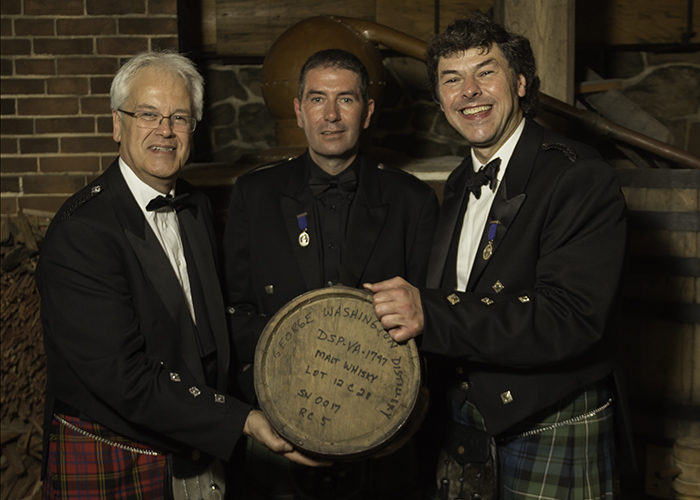 "When I saw it, I thought…you know what, this is going to be a big challenge to make quality whisky here using this very primitive kit," Bill Lumsden said in an interview. "As it turns out, much to our delight, we ended up making something which to use the Scottish understatement…it was OK…we were quite happy with it." In fact, the three distillers were so pleased with the first distillate coming off the stills that they decided to produce two versions of the whisky – a "Director's Cut" version using single-distilled spirit and the "Limited Edition" version with spirit distilled twice in the Scottish tradition. The whisky was matured in a combination of small ex-Bourbon casks and a Madeira wine cask, but evaporation rates over three and a half years meant just 30 bottles of each type could be produced.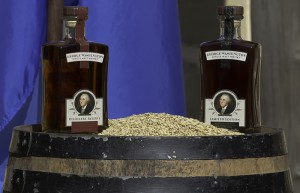 One bottle of each version will be auctioned at the Distilled Spirits Council of the United States' annual "Spirit of Mount Vernon" benefit tonight. Another set of bottles will go to the Scotch Whisky Association to be auctioned for a Scottish charity, and the remaining bottles will be used to raise money for Mount Vernon educational programs.
"It's about celebrating the shared heritage of Scotland and US distilling," said Scotch Whisky Association CEO David Frost. The project was part of the SWA's centennial celebration during 2012, though it was spearheaded in the US by the Distilled Spirits Council, which funded the restoration of George Washington's Distillery in 2005 and supports ongoing operations to this day.
For more details, listen to this weekend's episode of WhiskyCast.