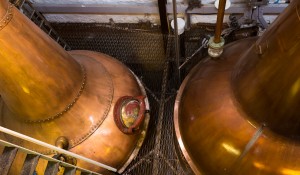 January 4, 2014 – A new report from the Scottish Government shows the value of Scotch whisky exports worldwide nearly doubled over the ten-year period from 2002 to 2012, with the value for 2012 reaching a record £4.3 billion ($7 billion USD). The volume of exports over the same period showed a 32% increase, reflecting increasing prices and exports of more premium bottlings over the period. The report is based on data from HM Revenue & Customs, which tracks all whisky production and exports for tax purposes.
In a statement, Scottish Food & Drink Minister Richard Lochhead cited the devolved government's role in promoting whisky exports as part of an overall goal of increasing Scotland's food and drinks economy.
"I'm particularly pleased that these results show a 51 per cent rise in the value of exports since 2007.  We export to 173 countries, from the United States – which has more than doubled its spend on our national drink – Brazil and China, to Bermuda, Papua New Guinea and the Vatican City. This just exemplifies how important Scotch Whisky is not only to the Scottish economy, but to our deserved reputation as a Land of Food and Drink."
The United States remains the single largest market for Scotch whisky, with the value of exports reaching £758 million ($1.24 billion USD) in 2012, the last complete year for which data is available. In 2002, the value of whisky exports to the U.S. was £302.5 million ($496.4 million USD).  The next four largest export markets based on value are France (£434 million/$712 million USD), Singapore (£339.2 million/$556.6 million USD), Spain (£195.3 million/$320.5 million USD), and Germany (£168.8 million/$277.1 million USD).
Singapore's ranking reflects the city-state's role as a major shipping hub for the Asia-Pacific region, while Spain has dropped from second place in 2002. The troubled Spanish economy has resulted in a net drop in whisky exports since 2002, when Scotland exported £256 million ($420.1 million USD) of whisky to Spain.
Links: Scottish Government