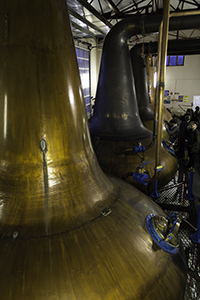 April 1, 2015 – For the second consecutive year, Scotch Whisky exports declined on an annual basis in 2014, according to new figures released today by the Scotch Whisky Association. Data from HM Revenue & Customs shows the value of Scotch exports fell 7% to £3.945 billion ($5.863 billion USD), while the overall volume of exports fell by 3% to the equivalent of 1.19 billion 70cl (40% ABV) bottles. SWA executives give several reasons for the drop in sales, including political and economic volatility in some emerging markets, consolidation in developed markets, and changes in inventory levels.
The US market, traditionally the largest export market by value, is a key example of the latter. 2014 exports to the US fell by 9% to £748 million ($1.1 billion USD). However, data reported by the Distilled Spirits Council of the United States in February showed Scotch Whisky sales only dropped by 1% during 2014. The difference is due to distributors and retailers depleting inventories shipped during 2013 and not replacing it as quickly with new shipments from Scotland.
The decline in exports to the US was offset somewhat by increased exports to other key markets. France, which is traditionally the largest export market by volume and second to the US by value, saw a 2% increase in exports by volume and 3% by value as the French market recovered from a 2012 tax hike on spirits that led to declines during 2013. Spain and Japan both saw increased exports for the first time in several years, while India's 150% tariff on imported spirits didn't appear to impact Scotch Whisky exports with a 30% gain in volume over 2013. However, exports to Singapore were off by 41% – critical as the Asian city-state is an important shipping hub for China and other Pacific Rim markets. Direct shipments to China were also affected by the government's austerity measures, with the value of exports falling by 23%.
SWA executives stressed the need for additional free trade agreements as a key to boosting Scotch Whisky exports, citing South Korea as a specific example. The end of tariffs on imported spirits mandated in that country's free trade pact with the European Union led to increased exports (£117 million total) in 2014 for the first increase since 2010. Similar agreements are in the works with Vietnam, Colombia, Peru, and Canada. In a news release, SWA chief executive David Frost urged the UK Government and EU leaders to press for additional free trade agreements worldwide.
"Economic and political factors in some important markets held back Scotch Whisky exports in 2014 after a decade of strong growth. It shows that the industry's success cannot be taken for granted and that we must continue to argue for more open markets and ambitious trade deals that tackle barriers to market access. The long-term fundamentals remain strong, with consumers in emerging markets wanting to buy Scotch Whisky as a high-quality and authentic product with a strong reputation and clear provenance. This drives the strong investment in Scotch Whisky production in Scotland and the significant interest in entering the sector."
The top three export markets by value did not change from 2013 to 2014, with the US, France, and Singapore holding their positions. Taiwan leapfrogged Spain and Germany to take fourth place, while Spain fell to fifth and Germany fell out of the top five to sixth place. In volume rankings, France, the US, India, Brazil, and Spain remain the top five export markets.
Links: Scotch Whisky Association