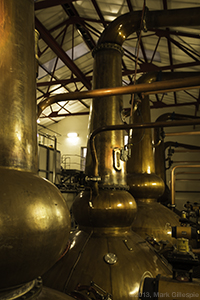 April 11, 2014 – As the Scotch Whisky Association released 2013 export data showing a second consecutive flat year, the trade body's chief executive expressed concerns over September's Scottish independence referendum and its potential impact on the Scotch whisky industry. David Frost, while not openly suggesting that Scots vote against seceding from the United Kingdom, suggested in a news release that Scotland's foreign trade benefits from the governments in Edinburgh and London working together.
"As a former ambassador, I know that the industry also depends on strong political support from government, for example to influence European Union negotiations on our behalf or to press other countries to allow better access to their markets.  Both the UK and Scottish Governments have played an important role in this so far.  Whatever the outcome of the Scottish referendum, as an industry exporting to around 200 markets we will continue to need the backing of an effective diplomatic network with the necessary global reach, commercial expertise, and capacity to influence."   
It has been suggested that a "yes" vote on independence would force the future Scottish government to renegotiate the many trade treaties signed by the UK government in recent years that include specific protection for Scotch whisky against counterfeiting and punitive tariffs. Frost did not address that in the SWA's news release, and the Scottish National Party-led pro-independence campaign has not addressed the issue directly.
Meanwhile, the overall value of Scotch whisky exports dipped slightly during 2013. According to HM Revenue & Customs data, the value of Scotch whisky exports for 2013 was £4.259 billion ($7.12 billion USD), down from £4.273 billion ($7.15 billion USD) during 2012. However, the volume of Scotch whisky exports rose by 3%, with single malt exports gaining 5%.
France remains the single largest market for Scotch whisky by volume with a 16% gain, following an off-year in 2012 linked to a tax increase at the beginning of 2012 that saw importers accelerate their orders during late 2011 to avoid the increase. The United States saw an 8% gain with a value of £819 million GBP ($1.37 billion USD), and remains the largest market by value. Exports to India grew by 12% despite no progress in trade talks between India and the European Union, and SWA officials are hopeful that negotiations will resume following the upcoming Indian elections.
The Asia-Pacific region suffered sharp declines, with double-digit drops in exports to China, Japan, Taiwan, and South Korea linked to slower regional economic growth and government austerity measures. Singapore, which serves as a regional shipping hub, showed a 3% decline. South Africa saw an 8% gain in volume (1% in value), while Brazil and Mexico led Latin America with volume increases of 26% in Brazil and 15% in Mexico – where Scotch whisky has become one of the UK's fastest-growing exports according to the SWA.
Despite what would appear to be another flat year for the industry, Frost remains confident in the overall strength of Scotch whisky.
"The industry's impressive performance makes a major contribution to the UK's trade performance. The unprecedented investment programmes in Scotch Whisky by producers show that in the long term they are confident that demand will continue to grow. However, in the short run, there are some economic headwinds.  Formal and informal barriers to trade remain.  We should remember that the industry's success does not come automatically but is based on hard work, investment and careful stewardship."
According to HMRC data, Scotch whisky accounts for 85% of Scotland's food and drink exports, and nearly 25% of the UK's overall food and drink exports. SWA officials were unavailable for interviews today.
Links: Scotch Whisky Association | HM Revenue & Customs Statistics