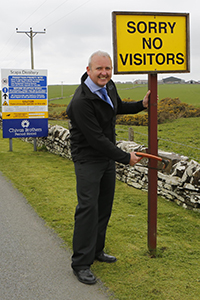 April 28, 2015 – Orkney's Scapa Distillery is one of the most remote distilleries in Scotland, yet whisky lovers have made many attempts to visit the distillery on the shore of Scapa Flow only to be greeted with a stern "No Visitors" sign. Distillery manager Brian Macaulay has been wanting to open Scapa to visitors ever since he first worked there as a relief brewer 21 years ago, and ceremonially cut down the sign to mark the opening of Scapa's new visitor center.
"It was a great pleasure…it's been something that for years having visited the distillery gives it a negative approach for such an amazing and positive product that we've got," Macaulay said in a telephone interview. Macaulay persuaded Chivas Brothers executives to invest in the visitor center, and found an enthusiastic backer in Peter Prentiss, the company's Heritage and Brands Director. The result includes a tour through the distillery, which has one of the few remaining Lomond stills in use in Scotland, along with a walk along the distillery's beachfront on Scapa Flow.
"The times are changing, and people are very much into this sort of unique and connoisseur tours and the single malts, so I think it's the right time for Scapa to open its doors," Macaulay said.
Tours will be available daily through September 28, 2015, then five days a week through November 13 before ending for the winter.
Links: Scapa