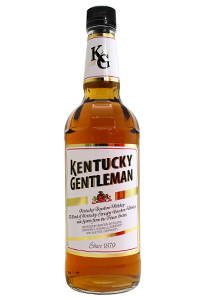 August 7, 2014 – Sazerac's Kentucky Gentleman Bourbon is one of the Western products being targeted in a tit-fot-tat escalation of trade sanctions between Russia, the US, and the European Union over Russia's hard-line stance on Ukraine. Russia has now banned the import of most food products from the US, Canada, and European Union members in retaliation for escalating economic sanctions against Russian energy and financial companies. However, the Scotch Whisky Association confirmed Friday that its whiskies are not on the sanctions list, and the Kentucky Gentleman ban appears to be isolated for now.
Kentucky Gentleman is distilled at Sazerac's 1792 Barton Distillery in Bardstown, Kentucky, and Russia's consumer protection agency moved to ban imports of the Bourbon earlier this week. The state-controlled ITAR-TASS news agency reported Monday that Rospotrebnadzor claims Kentucky Gentleman is not properly registered for sale in the customs union of Russia, Kazakhstan, and Belarus, even though its bottles carry the union's registration logo. The agency also claims laboratory analysts found evidence of phthalates in the whiskey. The organic compound has been linked to infertility and other health problems, and is often found in plastic products. While many distillers are increasing their use of PET-based plastic bottles, Sazerac CEO Mark Brown confirmed in an email that all of the company's exports are bottled in glass.
In a separate email, Sazerac spokeswoman Amy Preske told WhiskyCast that the company has not been contacted by Rospotrebnadzor as of today, and will have no comment on the agency's claims. Privately-held Sazerac does not release sales data for its brands, but a report from the Distilled Spirits Council of the United States based on US Customs data shows Bourbon and Tennessee Whiskey exports to Russia in 2013 were valued at $285,323 – compared to a global export value of $1.1 billion (USD) for the same period.
Editor's note: This story was updated on August 8 with confirmation from the Scotch Whisky Association that the Russian sanctions do not include Scotch Whisky as of now. 
Links: Sazerac | Distilled Spirits Council of the US | Scotch Whisky Association