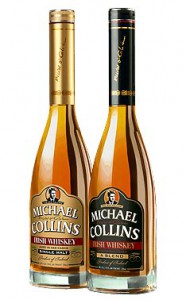 October 9, 2015 – Sazerac plans to revive the Michael Collins Irish Whiskey brand after acquiring the intellectual property rights to the defunct brand this week for an undisclosed amount. Sazerac plans to use its own stocks of Irish whiskey to produce new expressions of Michael Collins, which is named for the Irish revolutionary leader killed in 1922 during the Irish Civil War.
The Michael Collins brand was created by Sidney Frank Importing Company and made its debut in 2006 using whiskey sourced from Ireland's Cooley Distillery. However, it became the subject of a $100 million lawsuit in 2013 after Beam acquired Cooley and moved away from supplying bulk whiskey to Sidney Frank and other independent bottlers. That move dried up the supply of whiskey for Michael Collins, and the brand withered away as existing inventory was depleted.
Sidney Frank's lawsuit against Beam (now Beam Suntory) was dismissed by mutual agreement in June, just three days after family-owned Mast-Jägermeister of Germany agreed to buy Sidney Frank Importing for an undisclosed amount. In its statement announcing the acquisition, Sazerac referred to purchasing the Michael Collins rights from "Eagle Sellers Rep., LLC." However, Sazerac CEO Mark Brown declined to say whether Eagle Sellers was representing Mast-Jägermeister or had acquired the brand's rights on its own. Executives at Sidney Frank, which now operates as a division of Mast-Jägermeister, have not returned our requests for clarification.
Brown acknowledged that new packaging will be developed for Michael Collins, but declined to say when the revived brand will reach the market. Sazerac has an undisclosed amount of Irish whiskey stockpiles sourced from other distillers, and the company does not own a distillery of its own in Ireland.
Links: Sazerac