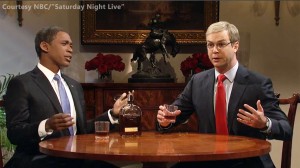 November 16, 2014 – While newly re-elected Senator Mitch McConnell told Kentucky Republican Party leaders Saturday the "Bourbon Summit" with President Barack Obama will take place, it's a safe bet that the meeting will not wind up the way NBC's Saturday Night Live portrayed it during the show's cold opening last night. After the Republicans scored a decisive victory in the midterm elections two weeks ago, President Obama told reporters he would welcome the chance to enjoy a glass of Kentucky Bourbon with McConnell, expected to become Senate Majority Leader when Republicans take control of the Senate in January.
NBC's parody of the summit featured Taran Killam as McConnell, Jay Pharoah as Obama, and two uncredited bottles of Woodford Reserve as the Bourbon. The summit included nine drinks each, a prank call to Hillary Clinton and ended with the traditional "Live from New York, it's Saturday Night!"
Brown-Forman spokesman Phil Lynch praised the show's choice of Woodford Reserve, telling WhiskyCast in an email that "SNL has already decided which Bourbon the President and Senator McConnell should drink at the "Bourbon Summit" – Woodford Reserve.  So that's one issue that doesn't need further debate."
Editor's note: This story was updated to remove a link to the video of the "SNL" sketch that had been taken off the Internet at NBC's request. 
Links: Saturday Night Live