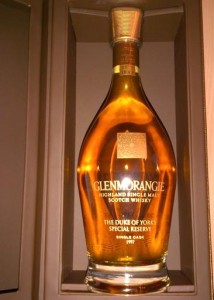 June 4, 2014 – Prince Andrew — also known as the Duke of York — has donated a rare bottle of Glenmorangie single malt to an online and live auction benefitting the charity Children in Crisis. The whisky dates back to 1997, when he visited Glenmorangie and laid down a single cask of whisky in an ex-Bourbon barrel. The cask was bottled in 2011 and labeled "The Duke of York's Special Reserve." A bottle from the same cask was sold last year at auction with a winning bid of £45,000 GBP ($75,335 USD).
The auction is part of the Art Antiques London charity gala on June 10, with proceeds going to Children In Crisis programs to provide educational opportunities to children in developing countries. In a news release, Children In Crisis executive director Koy Thomson said "Education is the key to children's futures and peace in the communities in which they live. We hope that auctioning the Duke of York's Special Reserve Whisky will raise vital funds for Children in Crisis to continue our work. We cannot thank him enough."
Other items up for auction include a private dinner for eight in the Directors' Dining Room at Berry Bros. & Rudd in London, tickets for the Wimbledon Men's Final, and various travel experiences.
Links: Children In Crisis | Glenmorangie