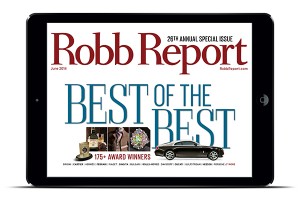 May 29, 2014 – Robb Report, the magazine focusing on high-end luxury items of all shapes and sizes, is out with its 26th annual "Best Of The Best" edition featuring the editorial staff's selections for the world's best…period. The magazine's editors selected Redbreast 21 Single Pot Still Irish Whiskey as their choice for the year's best spirit out of a field of more than 150 different spirits from around the world.
"We don't do it so much by category, like we want so many single malts, we want so many rums, but what's good, what's of Robb Report quality," Senior Contributing Wine, Spirits, & Cigars Editor Richard Carleton Hacker said in a telephone interview. "People always think that means high-priced…that's not true. It means value for the dollars…when I had the Redbreast 21, I will never forget it because it has such a creamy aftertaste, and the fact that it was an Irish whiskey, and I think I even said in the article it personifies all that an Irish whiskey should be."
Listen to Mark Gillespie's entire interview with Richard Carleton Hacker: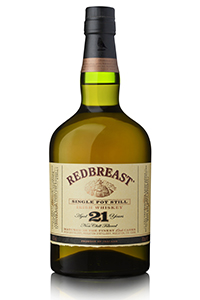 The final judging was done by a panel of Robb Report editors, according to Hacker. "We had a rum, we had a vodka, all of them superb and excellent…and the Redbreast 21 just kept rising to the forefront, if you will…it just lingered and lingered and everyone said 'this is pretty spectacular'." The runners-up included Glenmorangie Companta, the John Walker & Sons Odyssey, and Michter's Celebration Sour Mash whiskies.
"On one hand, it's great to hear it being referenced as the pinnacle of Irish whiskeys," said Brendan Buckley of Irish Distillers in a telephone interview. "What we feel so excited about is that we have so much more to come, and the beauty of what we've been doing is that we're seeing the work that was done 15, 20, 30 years ago in terms of distilling and laying down whiskeys so that the palette that Billy (Leighton) is working from and the inventory he's working from means that this is potentially the tip of the iceberg and there's more incredible whiskeys of a similar complexity and equally similar age that we can draw from, so if he has a high benchmark, I think we've got even better to come."  Buckley said the next expression in the Single Pot Stills of Midleton range will be released in October, but declined to provide additional details, saying only "watch this space."
Irish Distillers Pernod Ricard introduced Redbreast 21 in France during the fall of 2012, and began exporting it to the United States during the fall of 2013. It is the oldest Single Pot Still Irish Whiskey available, and is distilled at Midleton Distillery in County Cork, Ireland. Last year, the Redbreast 12-year-old expression made it to the final round of judging, narrowly losing out to Appleton Estate 50-year-old Jamaica Independence Reserve Rum in a field that also included The Dalmore Cigar Malt Reserve, WhistlePig Triple One Straight Rye, and the Abraham Bowman Limited Edition Port-Finished Bourbon.
Other "Best Of The Best" selections included the BMW M6 Gran Coupe (sedans), Porsche's 918 Spyder (convertibles), Doral's Blue Monster golf course, and the Fuente Fuente Opus X Angel's Share cigar. Hacker suggested the Angel's Share as a perfect cigar to match with the Redbreast 21. "That particular cigar has got the same creamy undertaste, and it just lingers…you take a puff and blow the smoke out, you don't have to take another puff right away because you're still tasting that wonderful mixture of flavors…it's like the Redbreast 21, you sip it, you chew it, you swallow it…it just stays with you and just lingers."
Editor's note: This story was updated with additional information on the finalists and an interview with Brendan Buckley of Irish Distillers.
Links: Robb Report | Redbreast