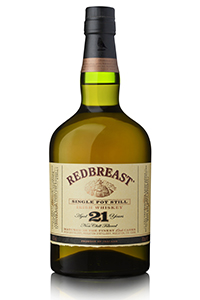 September 27, 2013 – Redbreast has long been prized by Irish whiskey lovers for its classic pot still whiskey taste, but until now, the 15-year-old expression was the oldest available. Thursday night, Master Blender Billy Leighton unveiled a new "old" Redbreast with the debut of Redbreast 21 Year Old at a tasting in London. The whiskey will be available for its first public tasting at this weekend's Whisky Live in Paris.
The release is part of Irish Distillers' goal to revive the Single Pot Still Irish Whiskey category, which started in 2011 with the release of Powers John's Lane and Redbreast 12 Year Old Cask Strength. The Pernod Ricard unit plans to release two new Single Pot Still whiskeys each year, and the Redbreast 21 follows the release earlier this year of Powers Signature.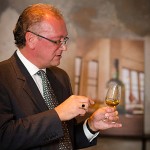 Billy Leighton created the Redbreast 21 from a triple-distilled mash of malted and unmated barley using the pot stills at Midleton Distillery, then matured in a combination of American White Oak ex-Bourbon barrels and European Oak ex-Oloroso Sherry casks. In a news release, he described the result as one of which he is immensely proud.
"Once my team and I tasted the 21 Year Old whiskey, there was never any question about whether we should release a younger expression – the older whiskey showed such stunning levels of depth, flavour and taste, we just had to bring it out for the growing army of Redbreast and Single Pot Still Irish Whiskey fans around the world. We're really excited to see how Redbreast 21 Year Old is received and we hope Irish whiskey fans will find it as delightful and rewarding to drink as it was for me to craft."
The whiskey has been bottled with no chill-filtration at 46% ABV, and will be available starting in October at select retailers in the USA, France, Germany, the UK, and of course, Ireland. It carries a recommended retail price of $180 USD.
Listen to this weekend's episode of WhiskyCast for more details on this whiskey. Tasting notes will be available soon.
Links: Redbreast