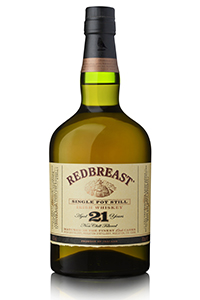 March 20, 2014 – For the second consecutive year, a whisky has received a perfect 100-point score from the judging panel for the Ultimate Spirits Challenge. Redbreast 21 received the highest possible score, along with a Chairman's Trophy for winning the Irish Pot Still Whiskies category. Last year, Highland Park's 25-year-old single malt became the first whisky to receive a perfect score in the competition. The competition is chaired by F. Paul Pacult, and the judging panel includes industry experts and spirits writers.
A total of 37 Chairman's Trophy winners were presented for various spirits, along with 218 finalists. Other whiskies honored include Glenmorangie 25, Ballantine's 17, and Douglas Laing's "Big Peat" in Scotch whiskies, Tullamore D.E.W 12 Special Reserve and Bushmills 16 in the Irish Whiskey categories, Wild Turkey Forgiven, George T. Stagg, and Bulleit 95 Small Batch among American whiskies, Alberta Premium Dark Horse in the Canadian Whisky category, and Nikka Coffey Grain in the Japanese Whisky category.
A complete list of award winners is available at the competition's web site.
Links: Ultimate Spirits Challenge