Country: USA
Region: Kentucky
Type: Bourbon
Bottler: Old Rip Van Winkle
ABV: 47.8%
Score: 97 points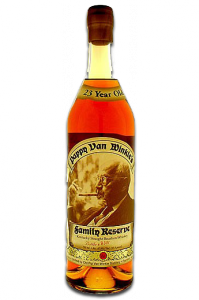 Those are just a few of the words used to describe the legendary Pappy Van Winkle 23-year-old Bourbon. The nose has notes of caramel, vanilla, honey, allspice, dark chocolate, and almonds. The taste is peppery, with honey, allspice, hints of ginger, leather, and wet, ripe tobacco in the field. The finish is long, subtle, and lingering with a mild pepperiness.
It's hard to put a dram of Pappy into words, though. The first word that comes to mind is "Wow!"
Thanks to Karl Kadar for sharing some of his Pappy with me!