Country: USA
Region: Kentucky
Type: Bourbon
Bottler: Old Rip Van Winkle Distillery
ABV: 45.2%
Score: 95 points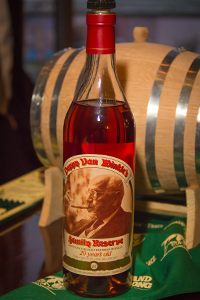 This is one of the most desired and hardest to find Bourbons in the world — so much so that someone stole $25,000 worth of Pappy 20 from inside a locked warehouse at Buffalo Trace in the fall of 2013 – a crime that remains unsolved.
The nose has good spicy notes of cinnamon, black pepper, honey, vanilla, ginger root, and touches of leather and tobacco. The taste is spicy without being overpowering – a delicate balance between the burst of cinnamon and pepper with the underlying honey, molasses, brown sugar, and vanilla notes. A touch of toasted oak pulls it all together. The finish is long and dry with subtle touches of cinnamon, honey, roasted corn, and toasted oak.
Excellent!