Country: USA
Region:
Type: American Whiskey
Bottler: Pabst Brewing Company
ABV: 40%
Score: 40 points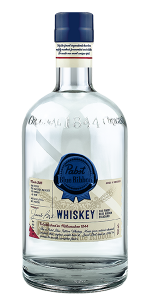 Pabst Blue Ribbon's owners wanted to celebrate the legacy of their brand's founder, Jacob Best, who was said to have started making whiskey in 1844 before he switched to brewing beer. They wanted to make an unaged "white whiskey" at Michigan's New Holland Distilling, but ran into opposition from federal regulators who insisted that it had to spend some time in contact with oak to legally be called "whiskey." PBR's team and the distillers figured out a way to have their spirit flow over oak staves for at least five seconds. That's not nearly long enough, but I'm not even sure five years could have helped this one.
The nose is grainy with notes of buttered popcorn, old newsprint, dried apple chips, and steamed rice. The taste is thin and watery with a subtle hint of pepper that lasts long after all but touches of ginger and almond have faded away. The finish is far too long with slight hints of watered-down flat ginger ale and stomach acid. Frankly, the team at New Holland should be ashamed for letting their name be used in connection with one of the worst whiskies I have ever tasted. (October, 2019)