Country: Scotland
Region:
Type: Blended Scotch Whisky
Bottler: William Grant & Sons
ABV: 55%
Score: 95 points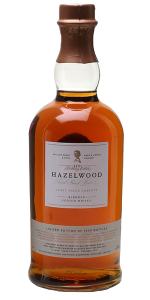 This blended Scotch was released in 2011 by William Grant & Sons to celebrate the 110th birthday of Janet Sheed Roberts, at the time Scotland's oldest person and the last surviving grandchild of company founder William Grant. It used whiskies from all of the Grant-owned distilleries in Scotland, and only 1,600 bottles were produced. Almost all were presented to company employees, but a few were auctioned to benefit various Scottish charities and some have found their way to the secondary market.
The nose is aromatic and warm with touches of baking spices, charred oak, honey, orange peel, and a hint of wintergreen. The taste has an excellent balance of baking spices and citrus fruits, honey, and hints of wintergreen and spearmint. The finish is extremely long with spices that last and last while not overpowering touches of mintiness and citrus fruits in the background. Outstanding! (February, 2020)