Country: Czech Republic
Region:
Type: Single Malt
Bottler: Distiller
ABV: 51.2%
Score: 95 points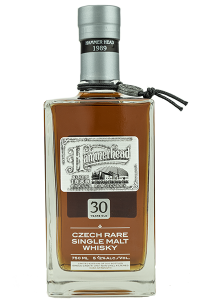 The Prádlo Brewery laid down a bunch of barrels of single malt whisky in 1989. At that time, it was owned by Czechoslovakia's Communist government – which fell in the Velvet Revolution shortly after that. Fast forward a couple of decades, when Stock Spirits acquired the brewery and found out about the whisky that had been maturing there ever since, and you get Hammer Head. The name comes from the old hammer mill used to grind grain at the brewery.
While there have been several bottlings of Hammer Head over the years, this is the oldest yet and was the brainchild of Raj Sabharwal of Glass Revolution Imports, the U.S. importer for Hammer Head. He arranged to get this single cask of 30-year-old whisky bottled exclusively for the U.S. market. The nose has fruity notes of apricots and peaches, along with pencil shavings, honey, vanilla, and dried flowers. The taste is fruity and tart with apricots, peaches, and a touch of mangoes, subtle spices and hints of honey and vanilla. The finish is long and fruity with subtle spices.
The Czech Republic has long been known for making great beer. This is proof that they can make a great whisky, too! (May, 2020)