Country: Ireland
Region:
Type: Irish Pot Still
Bottler: Mitchell & Sons
ABV: 40%
Score: 85 points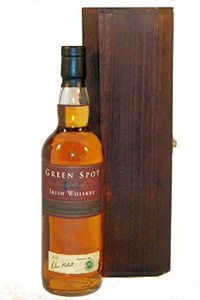 This limited-edition Irish pot still whiskey was released in 2005 to celebrate the 200th anniversary of Mitchell & Sons, the Dublin-based whiskey blender and wine merchant. The Mitchell family used to get casks filled with spirit at Dublin's distilleries, then blend the casks after maturation and daub the blended casks with a spot of paint to distinguish them when they were sold to pubs and grocers — which is where Green Spot got its name. The spirit now comes from the Midleton Distillery in County Cork, which is where Jameson, Redbreast, Powers, Paddy, and other Irish Distillers whiskies are made.
The nose has notes of cocoa, fudge, toasted oak, honey, vanilla, and a hint of smoke. The taste is slightly tart with lemon zest, red apples, cocoa, vanilla, and honey notes. The finish is smooth and gentle with red apples, lemon zest, honey, and vanilla. (October, 2014)