Country: Scotland
Region: Highlands
Type: Single Malt
Bottler: Distiller
ABV: 43%
Score: 94 points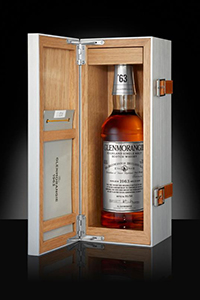 This single malt was bottled in 1987 after 23 years of maturation, including almost two years in Oloroso Sherry casks, and is credited with being the first wood-finished single malt Scotch.
The nose is vibrant, fresh, and fruity with tropical and citrus notes of orange peel, mango, papaya, grapefruit, and pineapple, along with a touch of coconut. The taste is fruity and well-balanced with mango, grapefruit, pineapple, and hints of vanilla and coconut underneath. The fruitiness disappears on the finish, though, but it remains soft, smooth and slow to fade with touches of vanilla and coconut. (December, 2013)
Note: These notes are for the original 1987 bottling, not for the 50 bottles discovered in a Glenmorangie warehouse and re-bottled for sale in 2013.