Country: Scotland
Region:
Type: Blended Scotch
Bottler: Duncan Taylor & Co.
ABV: 46%
Score: 91 points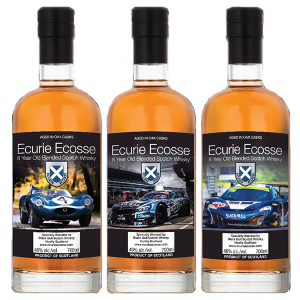 This 2016 release from Duncan Taylor & Co. was part of their sponsorship for the Ecurie Ecosse sports car racing team and celebrated the 60th anniversary of the team's victory at Le Mans. While the whisky was identical, there were three different labels honoring various Ecurie Ecosse cars. Proceeds from sales of the whisky went to Sir Jackie Stewart's Race Against Dementia campaign in honor of his wife, Lady Helen Stewart.
The nose on this 8-year-old blend is malty with touches of toasted caramel, butterscotch, oak sawdust, and a hint of lemon zest. The palate has a lemon pepper spiciness that builds up slowly over a citrusy tartness with touches of butterscotch, vanilla, and oak in the background. The finish is long with a lemony tartness complemented by barley sugar and butterscotch. (January, 2021)
Note: I received a bottle of this whisky from Duncan Taylor's Euan Shand when it was released in 2016, but did not open it until January, 2021 for a live webcast tasting with IndyCar drivers Alexander Rossi and James Hinchcliffe along with their "Off Track" podcast producer, Tim Durham. That tasting is available to watch on the WhiskyCast YouTube channel.