Country: Scotland
Region:
Type: Blended Scotch
Bottler: Compass Box
ABV: 40%
Score: 88 points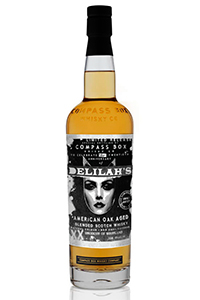 John Glaser of Compass Box created this blended Scotch with Mike Miller, the owner of Delilah's in Chicago, to celebrate the bar's 20th anniversary in August of 2013. Mike wanted a whisky that could be drunk as a "shot with a beer" to fit the Delilah's character, and this whisky delivers.
The nose is warm and aromatic with nutmeg, allspice, chili powder, and oak notes along with a touch of honey. The taste is spicy with chili powder and pepper notes balanced by honey sweetness, and the finish is spicy and lingering with a good pepperiness.
This is dramatically different from almost every other Compass Box whisky, but then again, Delilah's is different from almost every other bar. (August, 2013)