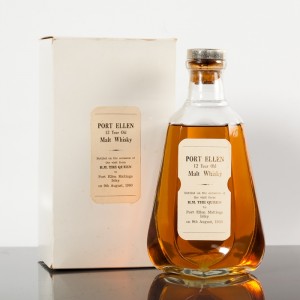 September 6, 2013 – Port Ellen bottlings are becoming scarcer, 30 years after the Islay distillery was closed and its stills removed. Now, a rare bottling from 1980 has taken top honors at the September McTear's whisky auction in Glasgow.
The 12-year-old bottling was produced to commemorate Queen Elizabeth's visit to the distillery on August 4, 1980, and brought a winning bid of £4,800 ($7,500 USD). The winning bidder's name was not released.
Runner-up honors went to a 1946 Macallan Select Reserve and a 1955 Bowmore, with both bottles receiving high bids of £4,000 each. A Dalmore 50-year-old distilled in 1926 brought a high bid of £3,200. Two 1964 Black Bowmores sold for £2,600 and £2,200, while a trio of 1964 Bowmores brought bids ranging from £3,200 for the Fino cask edition to £2,300 for the Oloroso cask and £2,200 for the Bourbon cask edition.
Complete results are available at the McTear's web site. The next McTear's auction is scheduled for October 9, 2013.
Links: McTear's