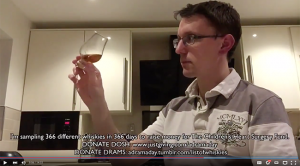 March 24, 2016 – A dram a day…for an entire year? That's not a big challenge for the average whisky lover, but Ben Bowers of Selby, England is doing a bit more than just drinking a dram a day. Bowers is creating a daily video blog on his YouTube channel with a review of each day's dram in the hopes of raising £5,000 ($7,075 USD) for the UK Children's Heart Surgery Fund. He started on Burns Night January 25 with a goal of finishing on Burns Night in January 2017, and is tasting whiskies from around the world – often while his two young children are sleeping in the other room.
In fact, one of his children helped inspire the challenge. "My six-year-old daughter's best friend at school has had congenital heart problems since he was born," Bowers said in a telephone interview. "By the time he was one, he'd already had three heart surgeries and a fourth when he was five…he will need a complete valve replacement, but unfortunately, he's just too young and too small at the moment to have that operation done." Bowers says the operation will be performed once Vaughan is older and better able to survive the surgery, but in the meantime, the Children's Heart Surgery Fund has been helping his family cope with the difficulties caused by his illness. "They provide resources, they have a unit at Leeds General Hospital where they specialize in babies and children with those heart problems, so it was very personal to me…Vaughan is my daughter Kairi's best friend at school, the two families, we get along fantastically well and I couldn't think of a better charity to try and raise the money for," he said.
Listen to Mark Gillespie's interview with Ben Bowers:

If the campaign succeeds in reaching its goal, the money will help pay for a new echocardiogram machine for the children's unit at the Leeds hospital. Bowers launched his fundraising campaign through the crowdfunding site JustGiving.com, and hopes to get donors to contribute 10p for each dram – a total of £36.60 ($51.80 USD) for all 366 drams. So far, the campaign has raised £317 ($448), and Bowers says potential donors want him to complete the "dram a day" challenge before they agree to contribute. "If I can get 100 people to sponsor me that equivalent amount, that would be over three and a half thousand pounds…that gets me a long way…obviously, 200 people doing that would get me over the goal, and that would be fantastic."
However, he's also looking for donations of drams to taste, and has collected around 170 samples so far. Bowers is making the challenge even more difficult by only doing one dram from each individual distillery or brand, arguing that it would be too easy to taste several different cask finishes or age statements from a single distillery. He has collected enough samples to cover the first 170 days of the challenge so far, but still needs another 196 to get enough whiskies to complete the goal. Most of the samples have come from individuals, but some were donated by Wemyss Malts and Speciality Drinks, and Bowers is acknowledging the sources of his samples in each video.
The campaign is also helping Bowers expand his own whisky knowledge as he tries to help others with his video tasting notes, which are geared to novice whisky drinkers. "A guy from Luxembourg sent me six (samples)…there was a Belgian, there was a German, there was a whisky from Luxembourg…anything goes at the moment, and it's been fantastic and eye-opening to come across these really unusual ones that I never would have come across in my life."
Links: A Dram a Day Facebook Page