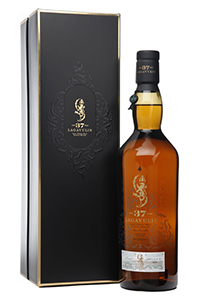 September 3, 2013 – The annual release of limited-edition single malts from Diageo's Scotch distilleries includes a 37-year-old Lagavulin, along with nine other rare bottlings. The Lagavulin expression was distilled in 1976, and is the oldest distillery bottling on record from the Islay distillery.
Only 1,868 bottles will be released, with a suggested retail price of $3,000 (USD) per bottle. In a news release, Lagavulin distillery manager Georgie Crawford called her whisky "probably the most sought-after single malt whisky in production today."
"For many years we have been unable to supply sufficient mature spirit to meet worldwide demand. So bottlings of old Lagavulin are exceptionally rare, and this year's 37 year old is the oldest that we have ever released."
In addition to the 37-year-old Lagavulin, a 12-year-old cask-strength (55.1% ABV) expression will also be part of the 2013 series. Caol Ila, the company's other distillery on Islay, will have a special release honoring retiring distillery manager Billy Stitchell and his entire family. The Caol Ila Stitchell Reserve is an unpeated malt with no age statement matured in a combination of refill and rejuvenated American Oak casks and ex-bodega Spanish Oak sherry casks. Billy Stitchell's father, both grandfathers, and a great-grandfather all worked at Caol Ila, and Billy has been a fixture there since 1974. He is scheduled to retire later this year.
The annual Port Ellen release is a 34-year-old bottling from 1978 matured in refill American and European Oak casks, with just under 3,000 bottles to be available at a recommended price of $2,350 each.
Other releases include a 36-year-old Convalmore single malt from the Dufftown distillery that closed in 1985, a 35-year-old Brora from 1977, and a 28-year-old expression of The Singleton of Dufftown. Talisker will be represented by a 27-year old expression matured in refill American Oak casks, and Oban is contributing a 21-year-old cask-strength (58.5% ABV) expression.
The only one in the series that will not be available in the U.S. is a 21-year-old Cardhu expression. 6,000 bottles will be available in other markets. All ten malts are scheduled to be available this fall in Northern Europe, selected Asian markets, and the United States.
Links: Diageo