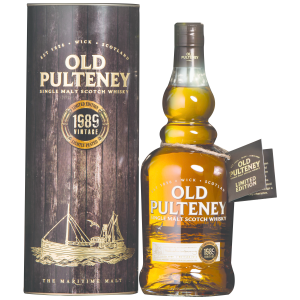 March 18, 2016 – Inver House's Pulteney Distillery never uses peated malt to make its single malt whiskies, but the distillery at the northern tip of Scotland in Wick has taken top honors at the World Whiskies Awards for its peated 1989 Vintage single malt. Judges named the 1989 Vintage the "World's Best Single Malt" out of a field of 21 regional winners from around the world, and also awarded it the title of "Best Highland Single Malt." The whisky was matured in ex-Bourbon barrels that had previously been used to mature a peated malt whisky, and was released as a limited edition bottling in 2015.
"We didn't anticipate this," Old Pulteney senior brand manager Margaret Mary Clarke said in a telephone interview Friday. "It's great for the guys at the distillery, it's great for Old Pulteney, and it's a testament to what the brand's all about…it's been a bit of a manic day for us all here." Clarke noted that the 1989 Vintage is a successor to the 1990 Vintage lightly peated malt released three years ago, and was selected by Master Blender Stuart Harvey and Distillery Manager Malcolm Waring. However, only 3,000 bottles were produced and there are no current plans to produce another lightly peated version in the near future.
The awards were announced at Whisky Magazine's annual awards dinner Thursday night in London following the Whiskies & Spirits Conference and on the eve of Whisky Live London. Other regional single malt Scotch winners included Cardhu 18 for Speyside malts, Glenkinchie 12 for Lowlands, Jura 30 for non-Islay Island malts, Lidl's store brand Ben Bracken 22-year-old Islay single malt, and Glen Scotia Double Cask for Campbeltown malts. Hakushu 25 won the award for best Japanese single malt, Starward's Wine Cask Edition took top honors for Australian malts, and Teeling Whiskey's 24-year-old won among Irish single malts. Taiwan's Kavalan Solist Amontillado Sherry Single Cask Strength won the "world's best" honor for best single cask single malt whisky after winning overall honors last year for its Solist Vinho Barrique single malt.
Suntory's Hibiki 21 won its third "World's Best Blended Whisky" award in the last six years, following victories in 2011 and 2013. Lidl also won another "world's best" award for one of its house brands, with the Glen Alba 22-year-old blend winning the award for best limited release blended whisky. Fuji-Gotemba Distillery's 25-year-old Small Batch Single Grain was named the "World's Best Grain Whiskey", while Green Spot Château Léoville Barton from Irish Distillers won the honor for single pot still whiskies. Knob Creek Smoked Maple was named the best flavored whisky, while Corby's Gooderham & Worts was named the "World's Best Canadian Blended Whiskey." Reference Series III.2 from Master of Malt took the award for best blended malt.
Several of the North American-exclusive "world's best" honors were announced last month at the Whiskies & Spirits Conference in New York City, including Sazerac's Abraham Bowman Pioneer Spirit and Smooth Ambler's Old Scout Single Barrel for Bourbons, Heaven Hill's Pikesville Rye for Rye whiskies and Bernheim Original for Wheat whiskies, and True Blue 100 Proof from Balcones for Corn whiskies.
A complete list of award winners in all categories is available at the competition's web site.
Editor's note: This story was updated to include comments from Old Pulteney's Margaret Mary Clarke.
Links: World Whiskies Awards